Research collaboration on autonomous driving public-road demonstration experiments
Make the technologies and services that are our strengths compatible with autonomous driving immediately.
Demonstration experiments can be performed in a variety of characteristic regions.
For the public-road demonstration experiments we perform, research collaborations with each company in each region have been performed as independent packages for each region. We have entered into a demonstration experiment implementation agreement with characteristic regions across Japan including Gunma Prefecture and are going to realize demonstration experiments in the regions appropriate for the autonomous driving research and development that our collaborative companies aim for.
* We are always looking for communities who hope to enter into the demonstration experiment implementation agreement.
It is possible to perform research and development only in the fields where strengths of each company can be utilized.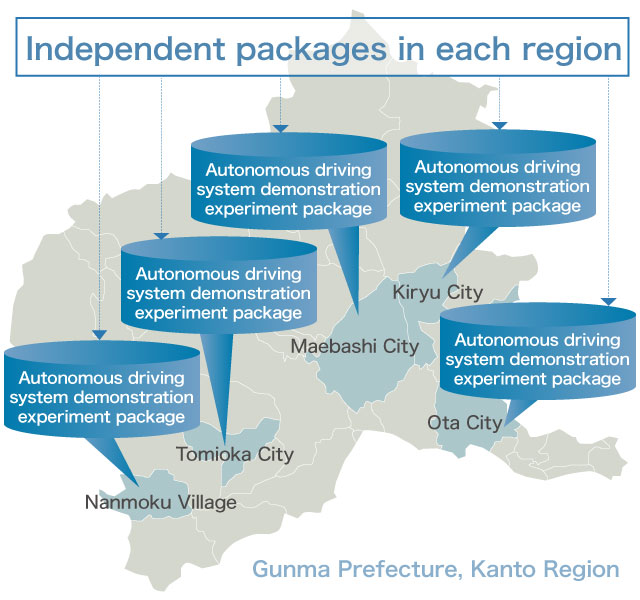 As the autonomous driving system demonstration experiment package, experiment data in five major research and development fields are provided. The development fields are determined across the borders of fields after consultation with companies which are planning to collaborate. Collaborative companies can therefore intensively develop the fi elds where they can utilize their own strengths. Also, collaboration activities with other companies are sometimes implemented in the same package if the development fi elds do not interfere with each other.
Clarifi cation of right-related relationships of research results
We clarify the development fi eld adequately before starting research and development. Therefore, the rights of research results obtained in the development fi eld belong to each party and the rights in the joint development fi elds are shared. Objects of rights of the university are subject to consultations on product utilization permissions regardless of the package above.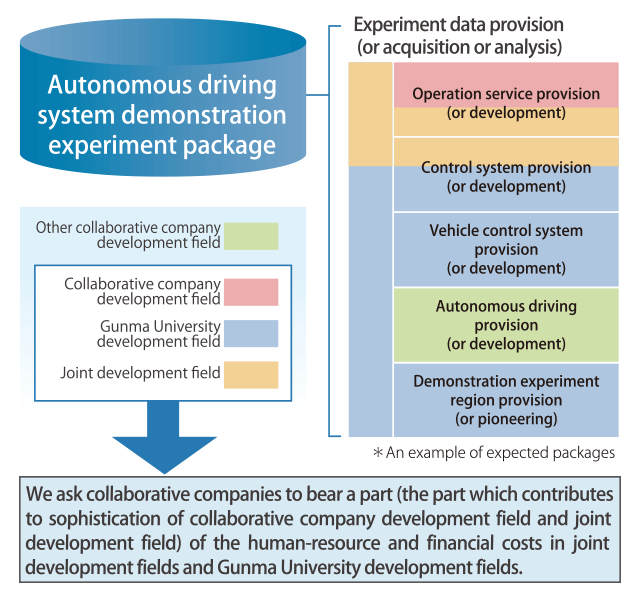 Points to note regarding the cost bearing in research collaborations
National university corporations including Gunma University are public ones, so they accept a variety of companies, perform joint research and development, and implement activities that serve the public interest. Therefore, when companies perform research collaborations with us, we have to get the companies who hope to implement it to bear the human resource and fi nancial costs concerned with joint development fi elds and university development fi elds or apply for funding and grant opportunities provided by the national government and academic funding agencies, etc.